The sun shines and a breeze brushes across Patrick's skin as his muscles begin to awake and remember his body's stride. The sound of his carbon fiber feet hitting the pavement below has found its familiar rhythm. Now his attention turns to his breathing. In and out. Over and over again. He feels fully present, connected. Not only in his body, but his mind, his senses, his thoughts.
Like so many others, running has taken on a meditative role in Patrick Pressgrove's life. It has given him moments of self reflection and a chance to grow in the process.
"Once I found the courage to start running and training, that's when I started to understand more about myself," said Pressgrove. "That's when I realized, okay there's some issues that I've gone through in the past that I really didn't understand until now."
Pressgrove has fought to overcome adversities from the very beginning. He was born with a cleft lip and palate, as well as defects that impacted the development of both of his legs. He was placed into foster care as an infant, later to be adopted by his foster mother. His childhood wasn't ordinary. He recalls having an estimated 20 surgeries by age 6, when he finally learned to walk. However, by age 13 he relied completely on a wheelchair. In 2004, at age 14, he elected to undergo bilateral above-knee amputations to suppress his constant pain and provide him an opportunity for a better quality of life.
"That was probably the biggest life changing moment. Going from a wheelchair to having elective amputations and now I can stand up and walk around," said Pressgrove. "If I'm wearing pants, no one knows that I'm an amputee. When you roll into a room in a wheelchair, that's not an option. Everyone notices you're there, or even worse, no one notices you."
Not being noticed, feeling lonely and socially isolated are not only common, but extremely harmful experiences that are overrepresented within the disability community.[1] In fact, research has shown loneliness and social isolation "may represent a greater public health hazard than obesity"[2] and needs to be addressed. Pressgrove's amputations were a step in the right direction, but his path to full inclusion would continue to wait over a decade.
Finally, at the age of 25, almost eleven years after his amputations, Pressgrove was granted access to the running prosthetics he needed to find himself, and his community. His prosthetist at the time, Jeremy Bilow, CPO, FAAOP, saw a fire within Pressgrove and was dedicated to helping him get active and meet more people. He encouraged Pressgrove to apply for a grant for carbon fiber running blades. If Pressgrove got it, Bilow would fabricate and align his prosthetic sockets, pro bono. The process of receiving the grant wasn't easy; it took a lot of research, a few mutual connections, and a bit of luck. Eventually Pressgrove found, applied to, and was accepted for a grant from the nonprofit charity, the Challenged Athletes Foundation.
Pressgrove was forced to rely on charity for access because the majority of health insurance companies deem assistive technology for sport, recreation, or physical activity as "not medically necessary." Without coverage, this technology is prohibitively expensive. An above-knee running prosthesis costs as much as his car. Pressgrove needs two of them. His everyday microprocessor knees have their limits, and do not allow him to run. Additionally, his blades must be replaced every 3-5 years.
This barrier to assistive technology not only restricts access to social inclusion in sports and recreation, but also prevents individuals with disabilities from reaping the positive benefits exercise has on self-esteem[3].
"Running gave me confidence to accept who I am and begin to thrive. It's helped me learn what I'm capable of, to be determined, and to continuously improve. My challenges are similar to everyone else's, but medically different," said Pressgrove.
Since receiving his running blades, Pressgrove has completed ten half marathons and three marathons, including the renowned Boston Marathon. He has also completed a half-Ironman distance triathlon and trained at the Team USA Training Center in Colorado Springs. When he reflects back on what running has provided, he does not mention the medals, personal records, or other accolades. He values something even more important.
"When you're running you really build up your mental fortitude and you learn a lot about yourself… so really in the last couple of years was when I found myself," said Pressgrove.
In these years, others close to him have also seen this incredible transformation. Mark Barr, a three-time Team USA Paralympian and friend of Pressgrove has been with him since the beginning of his endurance sport journey. He witnessed Patrick struggle through his first walk-run just a few years ago around Memorial Park – a three mile loop in Houston, Texas where they live – to now running marathons.
"Running has not only transformed Patrick as an athlete, but more importantly, as a person," shared Barr. "Before Patrick found running he was lacking the self confidence to wear shorts that showed off his prosthetic legs. Now, through running and the CATAPULT community, he has not only gained fitness, but also benefited from an increased self confidence as well as a community that he now identifies with."
Both Barr and Pressgrove help lead Team CATAPULT, a local 501c3 nonprofit organization that provides grants, training, and education to physically challenged athletes to get involved in endurance sports. A senior tax accountant by day, Pressgrove also serves CATAPULT as its Chief Operating Officer.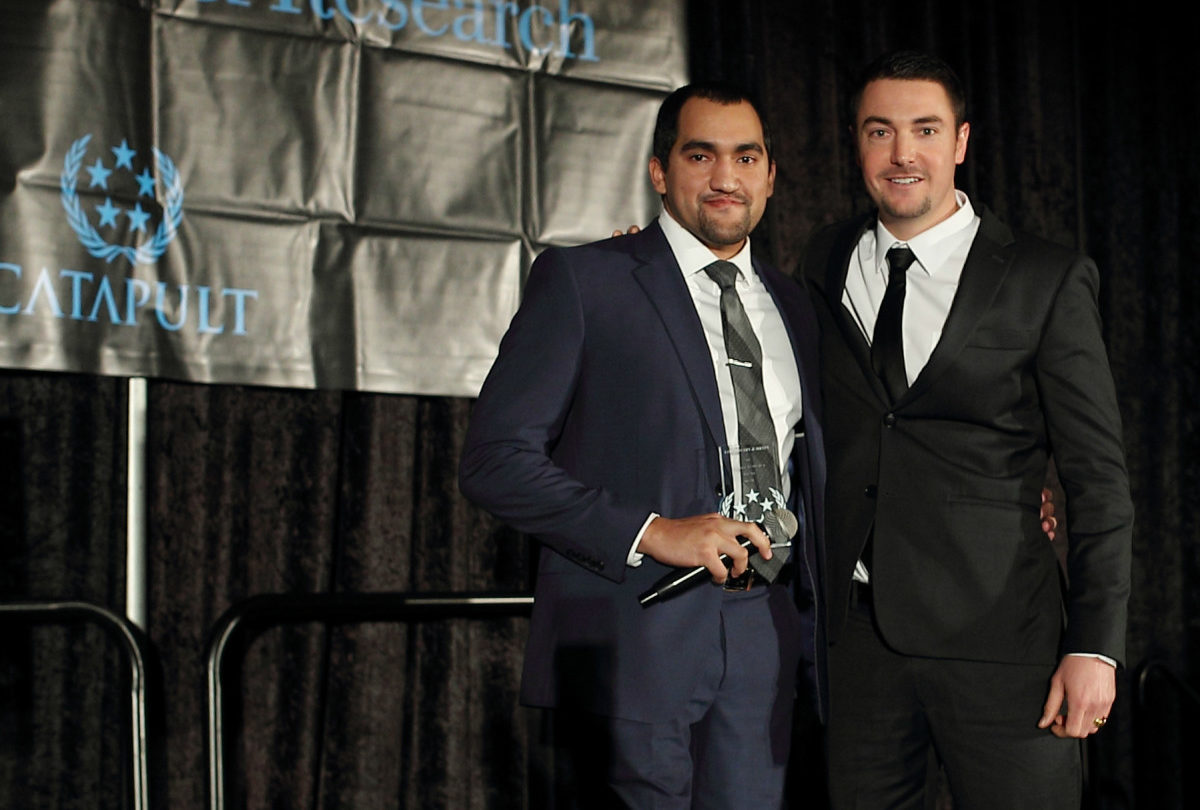 As grateful as he is for his blades, Pressgrove explained that relying on charity has its drawbacks. Individuals are often at the will of the nonprofit. They must fit their mission and the grant timeline they set. Additionally, because nonprofits often rely on word of mouth, many people who could benefit miss out because they're not in the right social circles. Simply put, accessing the necessary equipment comes down to being in the right place at the right time, and knowing the right people.
"And maybe that was the one year that would have turned your whole life around that much sooner. If you're not at the right place at the right time, it doesn't always work out," shared Pressgrove.
Because of this, Pressgrove is committed to systemic change and has joined Forrest Stump in its national advocacy campaign #WeJustFeltLikeRunning. The campaign calls on the United States President, Congress, Insurance Commissioners, Healthcare Providers, and others to end the blatant discrimination the disability community faces to physical activity in America, and to recognize and remove the barriers to access the assistive technology needed to exercise.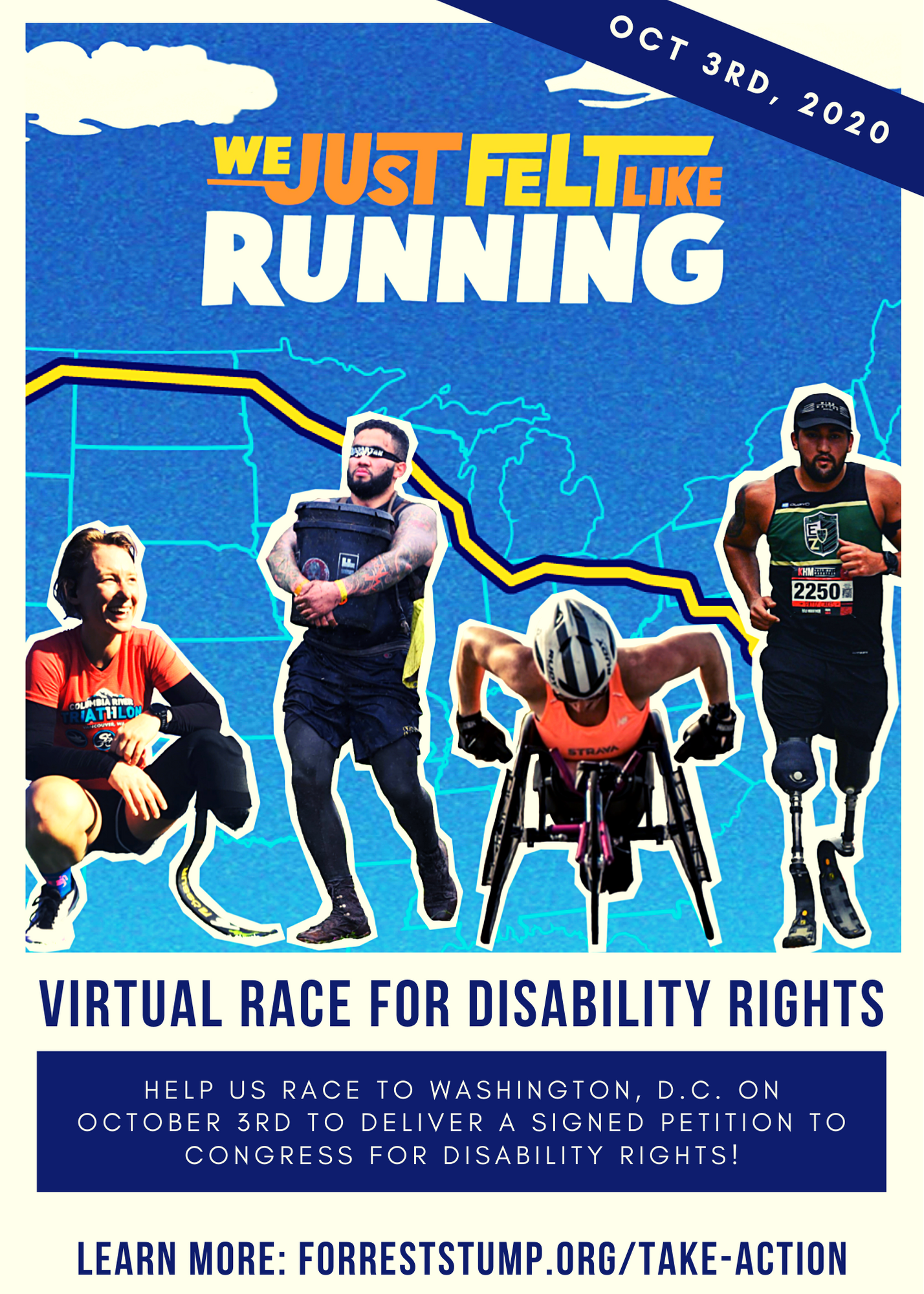 When asked what he hoped the world could look like for adaptive athletes in the future he replied with a simple statement.
"Everyone that wants to be active can be active," said Pressgrove. "And they don't have to worry about how they're going to gain access to that. It's a lot easier said than done which is why we're fighting the fight."
You can join Patrick Pressgrove in this fight too. Register to virtually race with us on October 3rd and sign our petition to be a part of Forrest Stump's #WeJustFeltLikeRunning team. Learn more about what you can do to exercise your right to exercise.