1500 MILES
A DOCUMENTARY SHORT FILM
1500 MILES is a documentary short about amputee athlete Nicole Ver Kuilen as she takes on a 1500 mile triathlon – swimming, biking, and running from Seattle to San Diego. Mile after mile, Nicole proves that she has the endurance, athleticism, and will to make it to the finish.
The biggest question is: will her prosthesis survive the journey?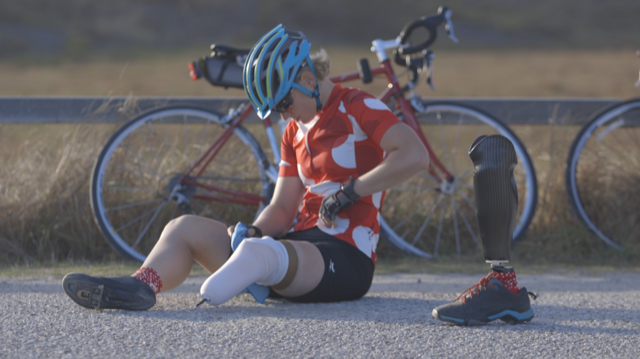 At 10 years old, Nicole was diagnosed with cancer. In order to save her life, she made the difficult decision to amputate her left leg. Since her amputation, she's stopped at nothing to be the best athlete she can be. Being active is her way of proving to herself that she's not disabled. And yet, the only prosthetic afforded to Nicole through insurance is designed for walking.
An additional prosthesis that would enable Nicole to run without limitation would cost her $20,000.
This 1500 mile journey is the biggest athletic feat Nicole has ever attempted. She faces challenges that any able-bodied athlete would; fatigue, pain, even fear, but she also has unique issues that make it even more incredible for her to attempt this massive endeavor.
If she can do this, she can do anything. But the further she goes, the more damage she does to her prosthetic and health. At every mile, Nicole must ask herself, "at what point should I give up on my goals to be a better athlete"?
Nicole calls this 1,500 mile journey down the coast Forrest Stump –  and she plans to just keep on running.  She wants to push her limits as an athlete, and also shine a light on some of the challenges facing amputees. This film is an extension of Forrest Stump's mission, showing the limitations of prosthetics and encouraging support for a greater standard of care.
While the media highlights vast improvements in prosthetic technology, the "activity-specific" prosthetics – such as the running blades seen in the Paralympics – are out of reach to most amputees. Although Nicole has been an athlete her whole life, insurance denies requests for anything besides a walking leg. Not only does that impede her from running, swimming, and biking, it also prevents her from standing in the shower. Her leg isn't waterproof.
Nicole's dream is to tour the country with this film, so she can share her story with audiences across the country. With this increased awareness, Nicole can better advocate for changes to be made in America's healthcare system and improve the lives of over 2 million amputees.
Entirely self-funded, we filmed Nicole on this once in a lifetime journey. We were there as she biked 60+ miles a day, swam across the San Francisco Bay, and tackled 76,000 feet of elevation over 2 months (p.s. – that's more than twice the elevation of Everest).
Our team was small, we lived out of a van, and after 1500 miles of shooting on the road, we returned home with one of the most amazing stories we've ever told. NOW, we need your help to finish this film! We're raising $20,000 for post-production, so we can:
1.      Compose an original score for the film
2.      Design and mix all of the audio
3.      Work with a colorist to grade the final footage
Towards our $20,000 fundraising goal
Kathleen Wang
Nicole's best friend & training partner
Kathleen has been with Nicole from the beginning. They watch out for one another on the road and keep each other motivated.
Natalie Harold
Nicole's prosthetist & mechanic
Natalie is the resident mechanic. She built Nicole's current prosthesis, so when it begins to wear down, she's able to help maintain it.
Jan Harley
Nicole's mother, driver & logistics
When Nicole was diagnosed with cancer, her mom dropped everything to be there for her. Now, she's dropped everything again to join her daughter on this important journey.
Chris Duncan
Director
Chris is an award-winning commercial director and partner at Snowday Studio. He's excited to say that this is his first short film. Nicole's story is particularly close to him, since it was a short film about the Paralympics called, "Meet the Superhumans," that inspired him to start making films. It's a story about the superhuman ability of Paralympic athletes, and after getting to know Nicole, he believes in that idea more than ever. He hopes this film shows the athletic potential of amputees in a way most people never thought possible.
Jess Vogel
Producer
Jess is an independent filmmaker based in beautiful Brooklyn. Prior to producing 1500 MILES she produced a series about a dreamer who ran across America called Run Carlos Run,  and co-directed / produced We Were Strangers, a feature that traveled around the country collecting and sharing the stories of strangers. Basically she's mastered indie travel / athletic / cause filmmaking.
Danger Charles
Cinematographer
Danger is a filmmaker based in San Francisco. He's worked on countless projects in the Bay Area and Los Angeles. Most often, he finds himself in the camera department. For this project, he was excited to put the skills he acquired living out of his truck for a year to use.
On behalf of our entire team, thank you for helping us share this story with as broad an audience as possible. With your support, our film will not only showcase the achievements of an athlete and the challenges of an amputee; it will open people's minds to how we think about both.
SUPPORT THE FILM